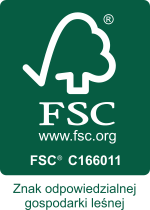 We are pleased to inform you that Dispos is certified by the Forest StewardShip Council®, or FSC®.
The FSC is an international non-for-profit organization that sets the standard for responsible forest management, taking into account social, environmental and economic aspects.
Our products are made of wood obtained while maintaining the viability of forests and their biological wealth, respecting sustainable development: economy - nature - society.
* For more information on FSC, please visit www.fsc.org